Game day takes on a whole new meaning when these lonely football wives start playing!
During football season, NFL coaches gear up for war on the gridiron, leaving their wives to fend for themselves. But B. J. Almond has had enough. She is livid when she finds her head coach husband in bed with one of his assistant coaches' wives. What really sets her off, though, is when she discovers the other wives knew about the affair all along. What better way to get revenge than to air everyone's dirty laundry in a juicy tell-all book!
B. J. knows where all the bodies are buried, and she's digging up all the dirt. But before she starts writing, she's running up the score with a lawsuit against her husband and his mistress. Armed with flight records, copies of naughty emails, phone records, and pictures, B. J. isn't holding back. And neither are the other football wives, who will stop at nothing to keep their shady secrets from going public. (From Publisher)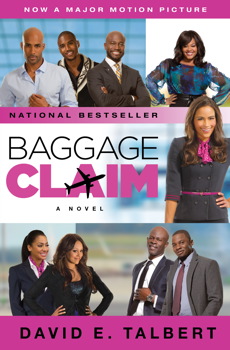 Heralded by the press and millions of theatergoers for his eleven wildly popular musical stage plays, five-time NAACP award-winning playwright David E. Talbert leaps onto the publishing scene with his debut novel, a big-hearted story about friendship, family, and the relentless pursuit of love.
Baggage Claim gives you a first-class peek into the wacky world of Montana Moore, a thirty-five-year-old flight attendant with enough baggage from her past relationships to fill an entire Samsonite showroom. Montana is an incurable romantic. A dreamer. The kind of woman who has her head in the clouds while her heart splatters swiftly to the ground.
With her mother having just tied the knot for a record-breaking fourth time and her baby sister, Sheree, rushing to jump the broom, five-time maid of honor Montana is dangerously close to becoming not only the oldest, but the only woman in her entire family never to be married.  Having convinced herself that there's no way in heaven or hell she's showing up at her sister's Christmas Eve engagement party without a prospect of her own, Montana concocts her wildest and most romantically ridiculous plan yet: a thirty-day, thirty-thousand-mile trek in search of a husband. (From Publisher)
Watch the trailer for the film here.
Fourteen-year-old Louis Bowman lives in a boxing ring—a housing project circa 1968—and is fighting "just to get to the end of the round." Sharing the ring is his mother, Jeanette Stamps, a ferociously stubborn woman battling for her own dreams to be realized; his stepfather, Ben Stamps, the would-be savior, who becomes the sparring partner to them both; and the enigmatic Ray Anthony Robinson, the neighborhood "hoodlum" in purple polyester pants, who sets young Louis's heart spinning with the first stirrings of sexual longing. (From Publisher)
Learn more about Bil Wright here.